The MrExcel Library Series:
Learn from MrExcel, Bill Jelen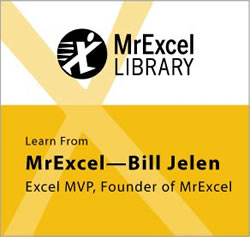 Learning advanced Excel techniques has never been easier. You'll find simple, step-by-step instructions, real-world examples and case studies, and YouTube videos straight from MrExcel—Bill Jelen. Bill is a Microsoft MVP for Excel and is the world's #1 spreadsheet wizard.
Titles in the MrExcel Library are designed to launch readers to the next level in Excel proficiency by pinpointing a certain task and expanding on it—providing the reference material readers need to become more productive with advanced features of Excel.