| | |
| --- | --- |
| | For 25 years, Upgrading and Repairing PCs has been the world's #1 guide to PC hardware: the single source for reliable information on troubleshooting and fixing problems, adding hardware, optimizing performance, and building new PCs. Now, better than ever, this 21st edition offers beefed-up coverage of the newest hardware innovations and maintenance techniques, plus more than two hours of new DVD video. |
Buy now: print, multi-format eBook (EPUB, MOBI, PDF)

Best value: Book + eBook Bundle
| | |
| --- | --- |
| | Fix your own iPhone, iPad, or iPod with secret repair knowledge Apple doesn't want you to have! In The Unauthorized Guide to iPhone, iPad, and iPod Repair, Timothy L. Warner shows you how to resurrect expensive Apple mobile iDevices you thought were dead for good, and save a fortune. |
He'll walk you through safely taking apart your iDevice, replacing what's broken, and reliably reassembling it. You'll learn where to get the tools and exactly how to use them. Warner even reveals sources for broken Apple devices you can fix at low cost -- for yourself, or even for resale!
Pre-order: print, multi-format eBook (EPUB, MOBI, PDF)

Best value: Book + eBook Bundle
Just Released

By Patrice-Anne Rutledge
May 15, 2013
$19.99 (Save 20%)

By Steve Johnson, . Perspection Inc.
May 14, 2013
$19.19 (Save 20%)

By Steve Johnson, . Perspection Inc.
May 10, 2013
$19.19 (Save 20%)
| | |
| --- | --- |
| | Three of the apps that have helped to transform the Apple iPad from being just another cool gadget to a highly functional tool for word processing, spreadsheet management, and digital slide show presentations are Apple's own Pages, Numbers, and Keynote apps. In this article, Jason R. Rich focuses on some of the newest features and functions that have been added to these three apps. |
Read article: Discover the Newest Features Added to the Pages, Numbers, and Keynote Apps
Promotions

Save 40% with Business Applications & Gadgets bundles from Que Publishing.
Save 40% with Social Media & Branding bundles from Que Publishing.
Check out Upgrading & Reparing PCs 20th Edition, My iPad 2, free video, and much more in the Gadgets & Hardware Resource Center from Que Publishing.
New Safari Books

By Stephanie Diamond
May 24, 2013
By Michael Alexander
May 9, 2013
By Bill Jelen
May 3, 2013
| | |
| --- | --- |
| | Ever wanted to create your own video game? With Microsoft's Kodu, you can -- and while you're having fun, you'll learn incredible problem-solving, programming, and game design skills as well. |
Kodu is a simple visual language that's just for games, and you'll be amazed at just how much you can do with it. It's perfect for people of any age who have never programmed before. Kodu for Kids teaches you all you need to know to create great Kodu games that you can share with the world!
Buy now: print, multi-format eBook (EPUB, MOBI, PDF)

Best value: Book + eBook Bundle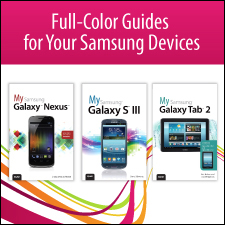 | | |
| --- | --- |
| | Interested in a new eBook reader? Not sure which model to buy? In this article, author Michael Miller compares the latest eBook readers from Amazon and Barnes and Noble, and helps you decide which model is best for you. |
Read article: Kindle vs. Nook: Comparing eBook Readers
Articles and Chapters

By Joe Habraken
May 17, 2013
By Guy Hart-Davis, Craig James Johnston
May 16, 2013
By Ed Tittel
May 15, 2013
By Michael Miller
May 15, 2013
By Ed Tittel
May 15, 2013