Using the Microsoft Office Web Apps, Web Edition
Web Editions
ISBN-10: 0-13-217452-9
ISBN-13: 978-0-13-217452-7
Audio
Listen to an audio sample from Using the Microsoft Office Web Apps.
Video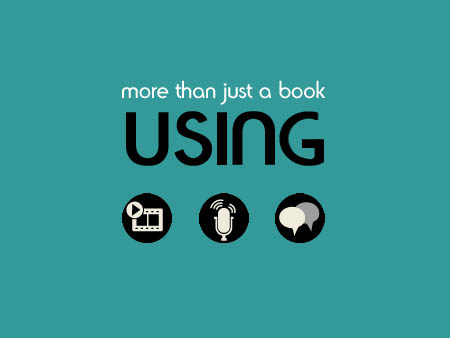 You need to upgrade your Flash Player. You need version 9 or above to view this video. You may download it here. You may also see this message if you have JavaScript turned off. If this is the case, please enable JavaScript and reload the page.
This is the Safari online edition of the printed book.
Get comfortable with the newest way to use Microsoft Office 2010. Don't just read about it: See it, hear it, with step-by-step video tutorials and valuable audio sidebars delivered through the free Web Edition that comes with every USING book. For the price of the book you get online access anywhere with a web connection--no books to carry, updated content, and the benefit of video and audio learning. Way more than just a book, this is all the help you'll ever need...where you want, when you want!
learn fast, learn easy, using web, video, and audio
Show Me video walks through tasks you've just got to see--including bonus advanced techniques
Tell Me More audio delivers practical insights straight from the experts
UNLOCK THE FREE WEB EDITION--To register your USING book, visit quepublishing.com/using.
Table of Contents
Introduction 1
How This Book Is Organized 2
Using This Book 2
Special Features 3
About the USING Web Edition 3
1 Introducing the Office Web Apps 4
Comparing the Web Apps and the Desktop Apps 5
Understanding Office Web App File Compatibility 6
Comparing General Interface Features 6
Comparing Excel and the Excel Web App 8
Comparing Word and the Word Web App 9
Comparing PowerPoint and the PowerPoint Web App 11
Comparing OneNote and the OneNote Web App 13
What You Need to Use the Office Web Apps 15
Browser Support 15
Obtaining a Windows Live ID 18
Installing Silverlight for Better Performance 19
Accessing the Office Web Apps 21
Accessing the Office Web Apps via SkyDrive 21
Accessing the Office Web Apps via SharePoint 2010 23
Scenarios for Using the Office Web Apps 24
Having Document Access Everywhere 25
Distribution Made Simple: One File, One Location 26
No Microsoft Office? No Problem! 26
Broadcasting Your Presentations 27
Collaborating in the Cloud 28
2 Learning Windows Live SkyDrive Essentials 29
Setting Up SkyDrive 29
Changing the Theme 29
Assigning a Picture to Your Profile 31
Working with SkyDrive Folders 32
Viewing a SkyDrive Folder 33
Navigating SkyDrive Folders 34
Creating a SkyDrive Folder 35
Changing the SkyDrive Folder View 37
Downloading a SkyDrive Folder 38
Deleting a SkyDrive Folder 38
Working with Office Documents in SkyDrive 39
Creating a New Office Document in SkyDrive 40
Uploading Office Documents to SkyDrive 41
Using Office 2010 to Save a Document to SkyDrive 45
Viewing an Office Document 46
Opening an Office Document for Editing 48
Working with SkyDrive Files 49
Moving a SkyDrive File to Another Folder 49
Copying a SkyDrive File to Another Folder 51
Renaming a SkyDrive File 51
Adding a Comment to a SkyDrive File 52
Disabling File Comments . . 53
Downloading a SkyDrive File 54
Deleting a SkyDrive File 55
3 Learning SharePoint 2010 Essentials 57
Managing SharePoint Document Libraries 57
Opening a Library 57
Navigating the Library Hierarchy 59
Adding a Library 61
Creating a Custom Library View 63
Downloading a Library 66
Deleting a Library 67
Dealing with Office Documents in SharePoint 68
Creating a New Office Document in SharePoint 68
Uploading Office Documents to SharePoint 70
Saving a Document to SharePoint Using Office 2010 72
Viewing an Office Document 74
Opening an Office Document for Editing 76
Managing SharePoint Files 78
Copying a SharePoint File to Another Library 78
Renaming a SharePoint File 80
Checking a Document Out and In 80
Deleting a SharePoint File 82
4 Collaborating with the Office Web Apps 84
Collaborating with the Office Web Apps Using SkyDrive 84
Working with SkyDrive Permissions 85
Configuring Your SkyDrive Network 86
Configuring Your SkyDrive User Categories 89
Configuring Your SkyDrive Folder Permissions 91
Letting People Know About Your SkyDrive Data 93
Collaborating on an Office Document in SkyDrive 99
Collaborating with the Office Web Apps Using SharePoint 2010 102
Working with Library Permissions 103
Letting People Know About Your SharePoint Data 110
Collaborating on an Office Document in SharePoint 115
5 Formatting Your Office Web Apps Documents 120
Changing the Font 120
Setting the Typeface 121
Changing the Type Size 123
Applying Type Effects 124
Setting Text Colors 126
Formatting Paragraphs 127
Building a Bulleted List 127
Creating a Numbered List 129
Setting the Indentation 130
Aligning Paragraphs 132
Applying Styles 134
Inserting a Link 136
Clearing Formatting 139
6 Working with the Office Web Apps File Features 140
Saving a File 140
Opening a Document in the Desktop Application 143
Downloading a Snapshot of an Excel Workbook 146
Downloading a Copy of an Excel Workbook 147
Closing a File 148
7 Using the Word Web App 150
Understanding the Word Web App's Restrictions 150
Finding Text 151
Building Word Tables 153
Inserting a Table 154
Selecting Table Elements 155
Inserting Rows and Columns 156
Changing the Column Width and Row Height 157
Aligning Table Elements 158
Deleting Table Elements 159
Inserting Images 159
Inserting a Picture 159
Inserting Clip Art 161
Formatting Images 162
Proofing Word Documents 163
8 Using the Excel Web App 165
Understanding the Excel Web App's Restrictions 165
Building a Worksheet 166
Entering Text, Numbers, and Dates 166
Building Formulas 170
Selecting Ranges 172
Making a Copy of a Range 174
Moving a Range 174
Inserting a Range 175
Deleting a Range 178
Formatting a Range 179
Adding Borders 179
Aligning Text Vertically Within a Cell 180
Wrapping Text Within a Cell 181
Applying a Numeric Format 181
Applying a Date Format 183
Controlling the Number of Decimal Places 185
Building Tables in the Excel Web App 186
Converting a Range to a Table 187
Toggling the Header Row and Total Row 188
Inserting New Table Records and Fields 189
Deleting Rows and Columns 190
Sorting Table Data 191
Filtering Table Data 192
Filtering Using a Filter List 193
Filtering Using Quick Filters 194
Clearing a Filter 197
9 Using the PowerPoint Web App 198
Understanding the PowerPoint Web App's Restrictions 198
Building a Presentation 199
Adding a New Slide 200
Adding Text to a Slide 202
Rearranging Slides 204
Duplicating a Slide 204
Hiding a Slide 204
Deleting a Slide 205
Adding Notes 206
Working with Slide Pictures 207
Adding a Picture to a Slide 207
Setting the Picture Style 208
Changing a Picture 210
Adding SmartArt Graphics to a Slide 210
Adding a SmartArt Graphic to a Slide 211
Applying a SmartArt Color Scheme 213
Setting the SmartArt Style 213
Changing the SmartArt Layout 215
Viewing a Presentation Online 215
Switching to Reading View 216
Switching to Slide Show View 217
10 Using the OneNote Web App 219
Understanding the OneNote Web App's Restrictions 219
Building a Notebook 220
Inserting a New Section 220
Inserting a New Page 222
Working with Page Containers 222
Tagging Items 223
Working with Pictures 226
Inserting a Picture 226
Inserting Clip Art 227
Formatting Images 228
Building OneNote Tables 229
Inserting a Table 229
Selecting Table Elements 232
Inserting Rows and Columns 232
Changing the Column Width and Row Height 233
Aligning Table Elements 234
Deleting Table Elements 234
Index 236
Buy
Web Editions  $15.99
The Web Edition of every USING book is powered by Safari Books Online, allowing you to access video tutorials and valuable audio sidebars. Plus, you can search the contents of the book, highlight text and attach a note to that text, print your notes and highlights in a custom summary, and cut and paste directly from Safari Books Online.
Purchase Reward: One Month Free Subscription
By completing any purchase on Que, you become eligible for an unlimited access one-month subscription to
Safari Books Online
.
Get access to thousands of books and training videos about technology, professional development and digital media from more than 40 leading publishers, including Addison-Wesley, Prentice Hall, Cisco Press, IBM Press, O'Reilly Media, Wrox, Apress, and many more. If you continue your subscription after your 30-day trial, you can receive 30% off a monthly subscription to the Safari Library for up to 12 months. That's a total savings of $199.